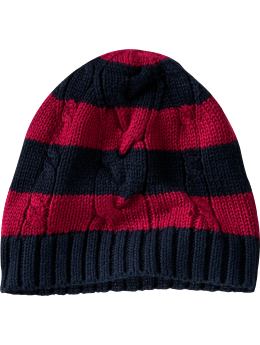 The last couple of years I've done a lot of Christmas knitting. So I've decided that this year, I'm not going to do as much. Most of the people in my life who would appreciate a knitted gift (and quite a few who probably would have prefered something else!) already got their socks or hats or whatever. So this year I'm scaling back. Really. Ok ok so I say that every year. But this year I mean it. There are a couple of gifts that I'm making (one knitted, one felted) that I can't show off here b/c the recipients might see them. But there are a few I can share. My brother asked for a hat that looks like this one by Gap. Hopefully I'll get it done before Christmas, so it won't "really" be a Christmas gift, but chances are I'll get distracted, lose track of time and be up late on Christmas Eve finishing it off. I think I'm going to use the basic hat pattern from Charmed Knits, because I've had really good luck with it before, but add in some cables and more ribbing at the bottom. 
And then for my two cousins who think its hilarious to ask me to knit them codpieces--
Weenie Warmers
! I'm not posting the picture here b/c its a bit graphic and I don't want it to surprise you at work, in a public cafe or in front of children. But if you aren't in any of those places, and aren't easily offended, click the link. Hopefully they won't actually be worn by my cousins, but they will be quick to knit and will be hilarious for them to open on Christmas day. Thats the sort of humor my family can appreciate (like the year my Aunt gave all the ladies in the family thongs-- each one picked out especially for that person's style and tastes, i.e. lace or cotton or bright colors or whatever).